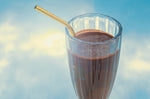 Do you remember those early days of trying out different protein shakes? The ones that often left you with a chalky aftertaste, a grainy texture, and an unappetizing experience? Yeah, us too! And, believe us, we weren't thrilled either.
In a world flooded with protein shakes aimed at bodybuilders and gym freaks, there appeared to be a void. What about those of us with sedentary lifestyles, just looking for a lighter breakfast option that wouldn't bulk up our calorie intake but still filled our bellies and took care of our protein, macro, and micro-nutrient needs?
Our quest to make this nutritious shake began with a sense that many people aren't receiving a sufficient amount of nutrients. We're huge fans of all things plant-based, but sometimes the diet culture becomes overly obsessed with fasting and restrictions. We often overlook the importance of protein in our daily lives.
While plants offer ample protein, we need to understand how much protein we're getting from each dietary source. Protein does more for our bodies than just flaunting our well-earned workout progress. It plays a vital role in keeping our skin, nails, hair, brain, digestion, immune system, bones, and blood healthy.
So, why not enjoy it in the form of a delicious chocolate treat?
Our Complete Health Shake was curated with tons of research(let's put it aside) and feedback from real people. We knew it had to be a chocolate ganache-inspired- gooey, thick, and super chocolatey, yet light on your tummy.
But there's more to our shake than just being pretty fabulous! We've crafted our shake using two high-quality plant-based protein sources: brown rice and pea protein. Why? Because they provide all the amino acids necessary for a complete protein profile. This ensures that you're not just getting a delicious treat but also a nutritional powerhouse.
So, whether you're leading an active lifestyle or have a more sedentary routine, our Complete Health Shake is designed to cater to your specific needs. It's not limited by age either. From the 16s to the 60s, it's a tasty way to ensure you're getting the right nutrients in just one glass.
Knowing that almost 60% of the Indian population is lactose intolerant, we had to ensure it was 100% lactose free for you to enjoy without any digestive issues. You can bid belly discomfort farewell for good!
You wouldn't believe it if we said, there's more than one way to enjoy our shake! From laddoos to mug cakes, brownies to mousses, it's the best-kept secret for creating delightful, nutritious treats that your taste buds and body will thank you for.
Find out more mouth-watering recipes to try on our Instagram and don't forget to subscribe to our weekly newsletter.