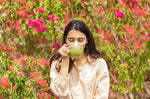 Today, we have something extra special to share with you. Our co-founder, Anushree, recently opened her heart to us, sharing the incredible journey that led her to embrace a plant-based lifestyle. We sat down for a cozy tete-a-tete, sipping on our favorite energy booster, as she spilled the beans on her adventure of self-discovery and holistic wellness. Now, we can't wait to share her delightful tale with you. 
Q: So, Anushree, how did your plant-based journey begin?
A: Well, it all started during my master's days in London. Away from home, I discovered the freedom to make choices for myself, including what I put on my plate. That's when I met an Italian foodie friend, and together, we experimented with a plant based lifestyle.
Q: Did you face any challenges while transitioning to a plant-based lifestyle?
A: Oh, absolutely! Experimenting with raw food and extreme diets made me realize that everyone's body is unique. What worked for others might not work for me. So, I welcomed a mindful approach, trying different plant-based dishes to see how they suited my body and along the way adapted it to my palate.
Q: How did this journey lead to Loop and Knot?
A: My brother, Shreeraj and I shared a vision – to create products or rather a lifestyle that adds value to people's lives without making drastic changes. We wanted to offer joy and nourishment, not impose restrictions. Loop and Knot became our canvas for crafting plant-powered masterpieces.
Q: Any hilarious kitchen adventures along the way?
A: You bet! Imagine two passionate foodies rummaging through grocery stores like curious kids in a candy shop. We whipped up plant-based delights with the grace of MasterChef contestants (well, maybe with a sprinkle of delightful chaos too!). Sometimes they were too good to be true and other times, well not so much! 
Q: What makes Loop and Knot's products different?
A: Our products are infused with wisdom from my personal journey. Each creation is crafted with love and pure science, making sure you enjoy every bite without compromising on taste or nutrition. Additionally, our entire thought was to bring products to your table that add value to your life rather than being an extra expense. It should be part of your regimen however that is, we promise it'll adapt to all of your routines. 
Q: How has going plant-based affected your overall well-being?
A: It's been magical! Understanding my body's cues, having the energy to conquer each day, and being comfortable in my skin – these are priceless gifts of a plant-based lifestyle.
Q: Was it challenging to adopt this lifestyle in your home country?
A: Indeed! Convincing family and friends to be open to this alienated or westernized concept of  living was a rollercoaster itself. But instead of changing minds, I aimed to show the real time benefits and positive changes and how seamless it is. We introduced them to plant-based alternatives one baby step at a time, and they loved it!
Q: What advice would you give to someone starting a plant-based journey?
A: Be patient with yourself and listen to your body. There's no one-size-fits-all approach. Be open to mindful eating, enjoy the process, and focus on your wellbeing as a whole, food is just one aspect of it!
Q: Any memorable moments on this adventure?
A: Oh, so many! But seeing Loop and Knot become a beacon of nourishment for others was truly heartwarming. We've seen the positive impact it brings to people's lives, and that's the most beautiful reward.
Q: Final words for fellow readers?
A: Welcome the journey with an open heart and a sprinkle of fun. It's not just about what you eat; it's about how you feel – nourished, vibrant, and ready to take on the world, one bite at a time! You have to get to a place where you just feel comfortable and own it. Be able to realize it's a part of you.
Up next, be the first to know our weekly content and sign up for our weekly newsletter.